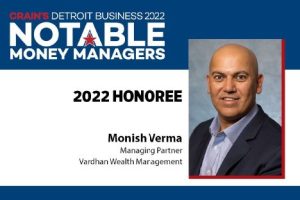 Monish Verma, Vardhan Wealth Management's Managing Partner, has been recognized by Crain's Detroit as a 2022 Notable Money Manager.
With nearly 30 years of experience in the industry, Monish launched Vardhan Wealth Management, an affiliate of Summit Financial, in May 2021. Vardhan Wealth helps successful families protect wealth and prosperity through complete and tailored financial planning and investment strategies.
Prior to Vardhan, Monish worked as senior vice president of wealth management and senior portfolio manager for UBS and at Smith Barney Morgan Stanley.
Crain's Detroit published their list on November 7, 2022. Honorees did not pay a fee to participate.
Methodology: The leaders featured in this Notable Money Managers report were nominated by their peers. A team of Crain's Detroit Business editors then selected honorees based on their career accomplishments, track record of success in their ¬ eld, contributions to their community and mentorship, as outlined in the detailed nomination and candidate forms. Notable Money Managers was managed and written by Leslie D. Green. For questions about this special report, contact Notables Coordinator Ashley Maahs at notablesdetroit@crain.com.